The Red River inn (formerly The Pendarves Arms) has had a complete refit over the winter, both outside and inside. The service remains excellent and the staff are as friendly and helpful as ever. The outside looks modern and smart and the inside has been transformed with new decor and most noticeably good lighting.
The bar area has been maintained as intimate and friendly and the old pool room now has additional seating for dinners and drinkers. The food remains as good as ever, offering very cost effective choices.
Below are a few pictures taken before the season starts.
Now doing accommodation

http://red-river-inn.com/accommodation.htm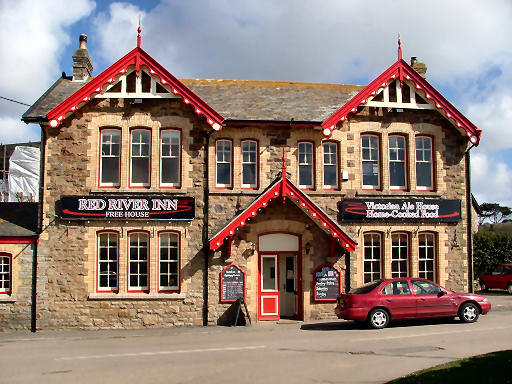 The Garden is looking good too, for those warm evenings

Every year we visit the Red River Inn, when were on holiday in Cornwall, we stay at the camp site opposite, and look forward to seeing Aaron and (mike who has sadly left now) We always get a big welcome and the staff are very friend, Aaron has made a great friendly welcome pub and we always recommend to family and friends to visit. The food is great, lots to choose from and good value. Would like to say to Aaron and staff keep up the hard work look forward to seeing you again in the year. Lots of love Tina & Paul Attwood Worcester x

Mr Fox writes:

My wife and I recently visited the Red river inn for Sunday lunch (£5.99), and found it to be excellent food, beer and service.

As you say (on your website) "long may it last"

Redriver inn was brilliant Aaron, Sallie and staff all brilliant and made us feel so welcome do go there again

from the scousers

I recently visited The Red River Inn and can only say that the food, service and hospitality are second to none... absolutely fantastic... amongst the friendly surroundings and the quiet sleepy village are people full of character and hospitality that i have only ever found near home... beautiful place....very highly recommended in my view....and i shall definitely return... 10 out of 10 guys..... good luck...I'll look forward to seeing the new bar once re-fitted.... Brilliant. .... best of luck... blessings to you all... 'Sarah'

Situated in the centre of Gwithian Village

The Red River Inn is easily accessible from the

road and offers parking for a dozen cars as

well as plenty of on street parking. It's right

opposite the Gwithian Farm Campsite and

a footpath connects the village to the

Towans.

The footpath runs down through Towans

next to the Campsite.
The menu is simple with a choice of 4 or

5 or more dishes each day, changing regularly for those who wish to go more than once a week.

Sunday lunches offer a choice of roasts

always a good vegetarian

option available. The kitchen staff remain

friendly and helpful,

long may it last..........

Tables may be booked:

Landlords: Aaron & Sallie Osborne

Red River Inn, 1 Prosper Hill, Gwithian, Hayle, Cornwall, TR27 5BJ

Tel: (01736) 753223 Email: aaronbaroni@aol.com

Visit their new site at:

.......

Send in your reviews of the new style pub to: